Dec. 14 – the "Capable Display and Promising Lighting" themed 2020 G-LED Annual Meeting kicked off in Shenzhen. Our COO Jiang Yi was invited to the meeting and delivered a keynote speech entitled "Starting a New Era of Micro LED Display" and covering technical analysis, development trend, and application scenario at the opening session.
Here are excerpts from the speech:
We published a White Paper on Micro LED Display Technology and Application 2020 this year to deal with a problem about definition and provide three points to determine whether a product falls into the Micro LED display category, i.e. Micro LED chip (100μm or smaller), mass transfer technology and driver IC technology.
We have put people and money into Micro LED research since 2016. A Micro LED product can be made as long as the "mountains" of chip, mass transfer and driver IC technologies are conquered. The fact that we launched the first Micro LED product in 2019 and became an incredibly competitive company in the industry clearly shows that we have overcome these challenges.
The first is chip technology. Lijing, a joint venture between Leyard and Epistar, one of the world's largest LED producers was set up to produce Mini/Micro LED self-illuminating display and backlight modules.
In 2017, we spearheaded investment in Saphlux, a third generation semiconductor manufacturer who owns the world-leading semi-polar gallium nitride (GaN) and NPQD (nanopore quantum dot) Micro LED. Saphlux's nanopore-based GaN (NPQD) quantum dot-based color-converted micro‐LED display, the first of its kind in the world, prepares technology for the next generation Micro LED products.
The second is mass transfer technology. Micro LED chip is placed on a glass substrate, which is put on the mass transfer equipment, and a similar welding procedure is performed through laser irradiation. We overcome barriers with this technology in 2018 and 2019.
The third is driver IC technology. For optimizing the performance of Micro LED, we spent a year developing a driver IC suitable for Micro LED display products. The resulting driver IC was successfully used in four mass-produced Micro LED commercial display products in July. HDR2.0 was enabled that time. Now HDR3.0 is enabled and it supports DIC-P3 color gamut.
Jiang believes three trends will emerge as Micro LED technology evolves. The First is about Micro LED chip. Micro LED is bound to be substrateless and smaller and pixel material cost is no longer the largest component of Micro LED display system. The second is glass substrate, which is highly likely to remain Micro LED technology's "perfect match" for further advancement. Glass substrate, together with Ultra-Micro LED crystal, wireless packaging, and mass transfer will lay the foundation for future progress of the next generation independent LED displays and the new generation LCD backlight products. The third is about Micro LED solution based on quantum dots, i.e. quantum dots are used as color conversion media to enable blue or UV LED induced full-color Micro LED display.
Micro LED is superior to other display technologies because of features including self-self-illuminating, nanosecond response speed, long life, high visual angle, 1500 PPI and above, and one size fits all. Jiang said, Micro LED will be used for large size commercial displays with higher resolution in the first phase, in smaller commercial application scenarios in the second phase. The use of Micro LED will be expanded into AR and VR in the third phase and furhter into consumer electronics and wearable devices thereafter.
"I cannot say that Micro LED will have entered the consumer electronics markets after the first three phases as its cost is much higher than LCD and OLED. However, it could see explosive growth in the consumer field once its prices and costs fall sharply." he added.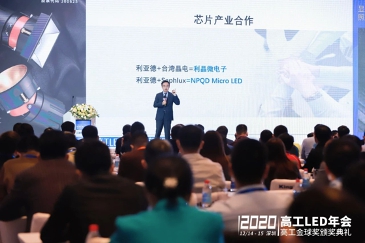 As LED industry opens a new era of display, we are accelerating the commercialization of Micro technology. Based on competitive differentiation, we will work hard to build a world-class LED Chinese national brand known for reputation, innovation and quality.