Jun. 10 · The signing ceremony of strategic cooperation between Virtual Point under Leyard and Harves Vision Technology is held at the Theatre of Dreams Beijing. Based on advanced interactive technologies and entertainment solutions, both sides will explore more offline application scenarios and create new technology-enabled consumption forms. Jiang Yi, COO of Leyard and Chairman of Virtual Point, Zhang Bo, Chairman of both Harves Entertainment and Harves Vision Technology, among others, attended the ceremony.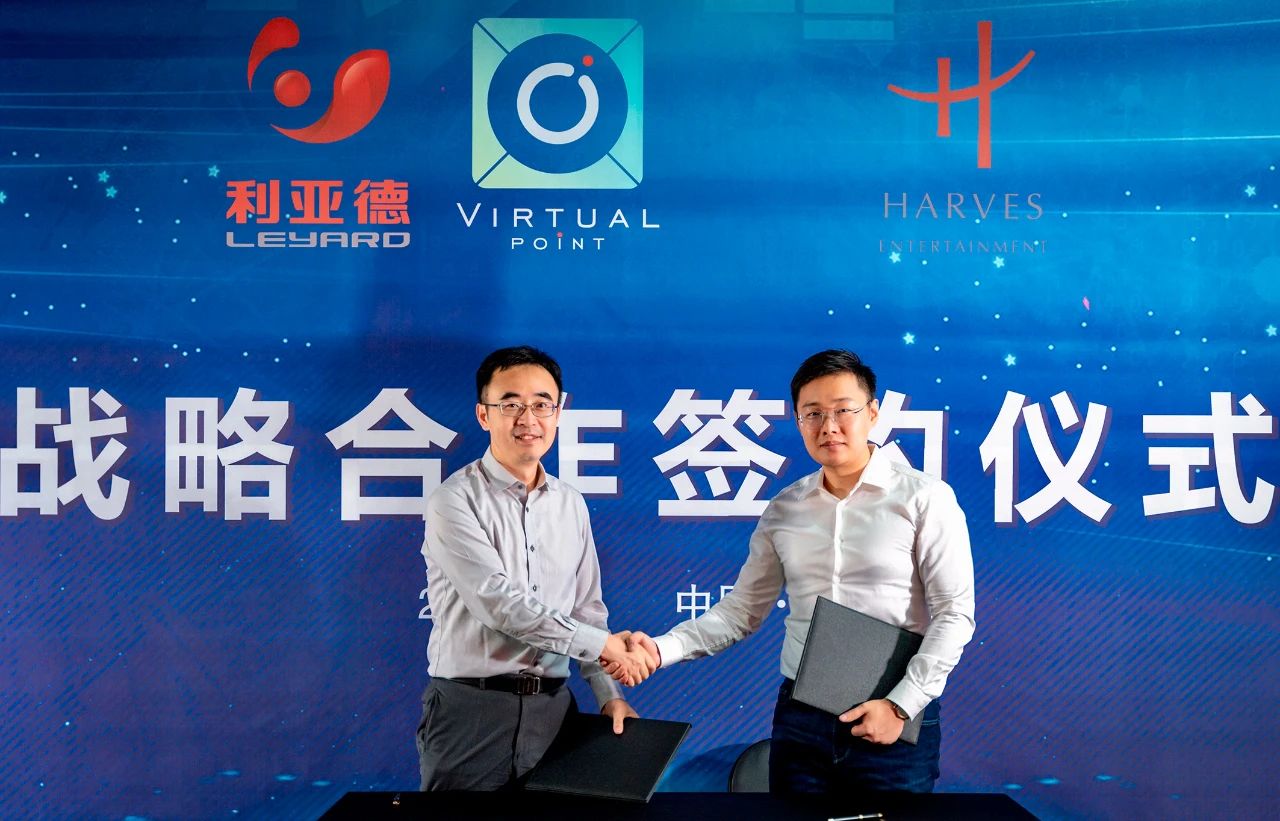 Jiang Yi, COO of Leyard and Chairman of Virtual Point(left)
Zhang Bo, Chairman of both Harves Entertainment and Harves Vision Technology(right)
Both companies have similar genes and are leaders of their respective industries, Jiang said at the ceremony. The parties will complement each other, integrate high-tech resources, optimize content and deployment, and create diverse high-tech, immersive entertainment experiences and scenarios in offline cultural tourism, science and technology show, IP theme parks to set a benchmark for offline immersive experience products and services.
The companies will combine strengths to create a next generation of immersive interactive entertainment experience platform, and use such platform to provide standard products and customized solutions for various scenarios to solve product pain points in immersive interactive entertainment industry, enable fast landing and intelligent service of offline interactive scenarios, and promote the standardization and specialization of the industry. The rapid evolution of AR, VR and 5G has brought about a new era of immersive entertainment and sports. The 2020 Global Immersive Design Industry Development Report published by NeXT SCENE, a globally leading immersive and experiential entertainment industry media and service provider shows that the immersive entertainment industry was valued in 2019 at more than $61.8 billion. The Chinese immersive market increased to ¥4.82 billion in 2019. Sectors including location-based entertainment, commercial real estate complex, display and exhibition, and cultural tourism are incorporating immersive experience for upgrading.
In addition to huge market potential, favorable policies have been adopted for the immersive industry in China. In the Guideline to Unleash the Cultural and Tourism Consumption Potential distributed by the State Council in 2019, it is proposed to promote integration of culture, tourism and modern technology, and develop next generation of immersive, experiential culture and consumer content of 5G, UHD, AR, VR, AI and other technologies.
The parties will provide product solutions and technical services for domestic indoor sports-themed playgrounds, science and technology museums and other projects[L01] , expand products and services for domestic and international immersive entertainment markets, and create a new era of immersive offline entertainment.