The list of enterprises passing the national "Information System Building and Service Capability Evaluation" recently announced shows that Leyard successfully passed the CS4 (excellent) (the highest certification currently available in China) certification audit.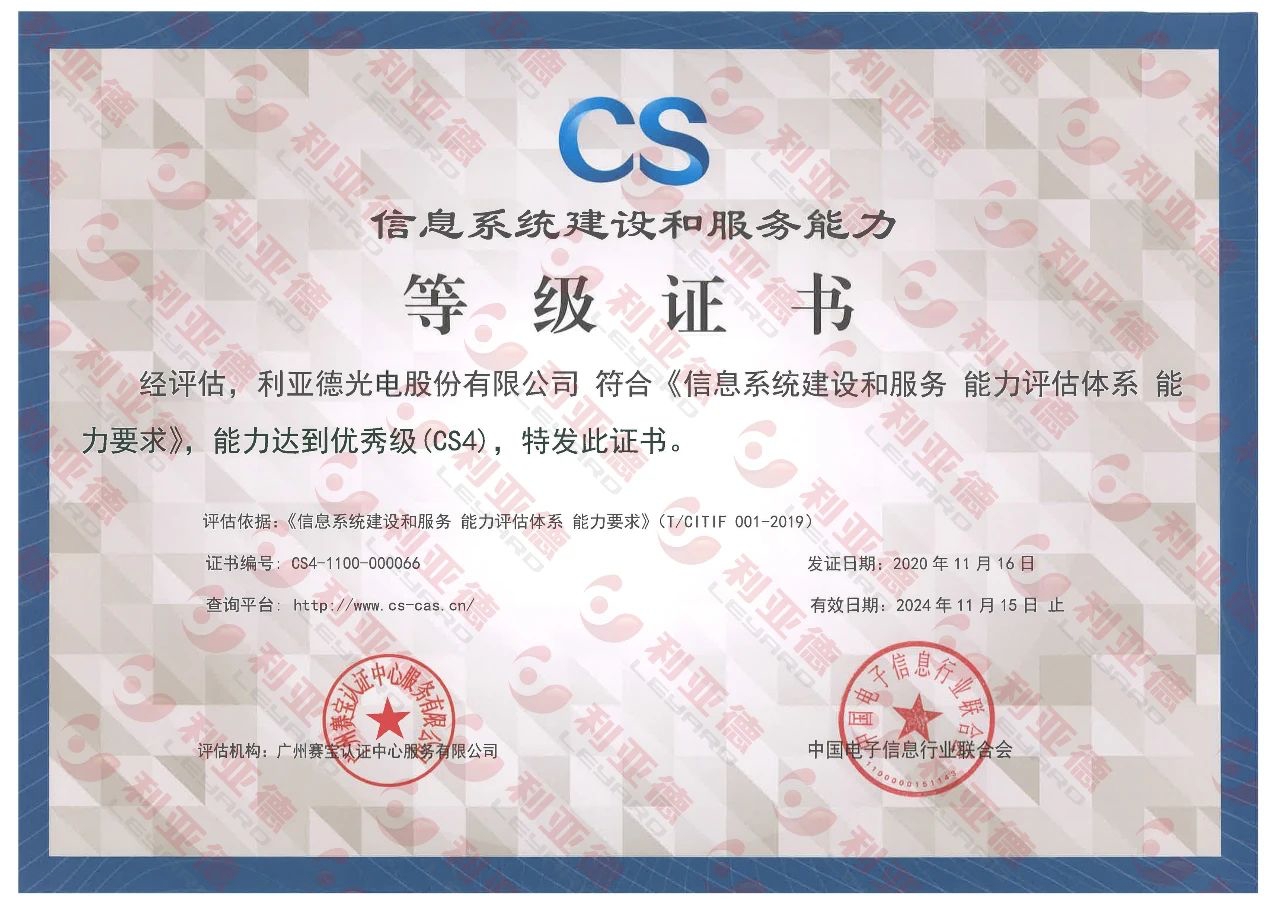 The Capability Requirements of Information System Building and Service Capability Evaluation System is a set of standards developed by the China Information Technology Industry Federation at the end of 2019 in line with the development of enterprises involving information and the national industrial planning. The standard provides comprehensive capability requirements for information system building and service providers for the first time in the industry. There are 5 levels from low to high, with CS4 (excellent) being the highest level currently available.
A CS4 certificate means that the receiver has excellent comprehensive capabilities in organizational strategy, operation, talent, technology, management and innovation, and uses cutting-edge technologies and plays an exemplary role in typical information system building and service projects within the main line of business.
We got the former information system integration service Grade II qualification in 2005 and have been committed system integration and implementation in the LED display industry since our listing on the stock exchange in 2012. In erecting integration platforms of display system, we use self-developed controllable technology to combine software and hardware technologies and create a model of integration in the industry.
After our management capabilities were audited by self-examination, inspector's consideration, on-site document review, on-site evaluation and expert defense this year, we have received CS4 (former system integration Grade I) certification on November 16, 2020, becoming the first CS4 certification receiver in the LED industry.
The future of electronics lies in integration and standardization. On the launch of Micro LED standard products in 2020, in combination with our product planning, another option is to use ASIC for DCU. The development of ASIC will enable standard production, streamline product application, lower maintenance cost and prepare Micro LED display for large-scale commercial use.