On March 19, Leyard Group signed a strategic cooperation agreement with TCL CSOT (TCL China Star Optoelectronics Technology Co., Ltd.). Under the principle of "win-win cooperation and common development", the two sides will carry out all-round and in-depth cooperation in four major fields, namely Mini LED backlight, Micro LED direct display, LCD commercial display, PCB and other integrated circuit devices, based on their respective technical, product and market advantages.
As a leading enterprise focusing on semiconductor display, TCL CSOT has a very strong foundation in LCD display technology and its basic research. As the corporate champion in the field of LED display globally, Leyard has also accumulated profound experience in LED chip flipping, LED small spacing and Micro LED driving technology. This time, the two sides will join forces to set up a collaborative innovation office to develop Mini LED backlight module and Micro LED new products in COG/MIP mode together, and actively promote the marketization of their new products.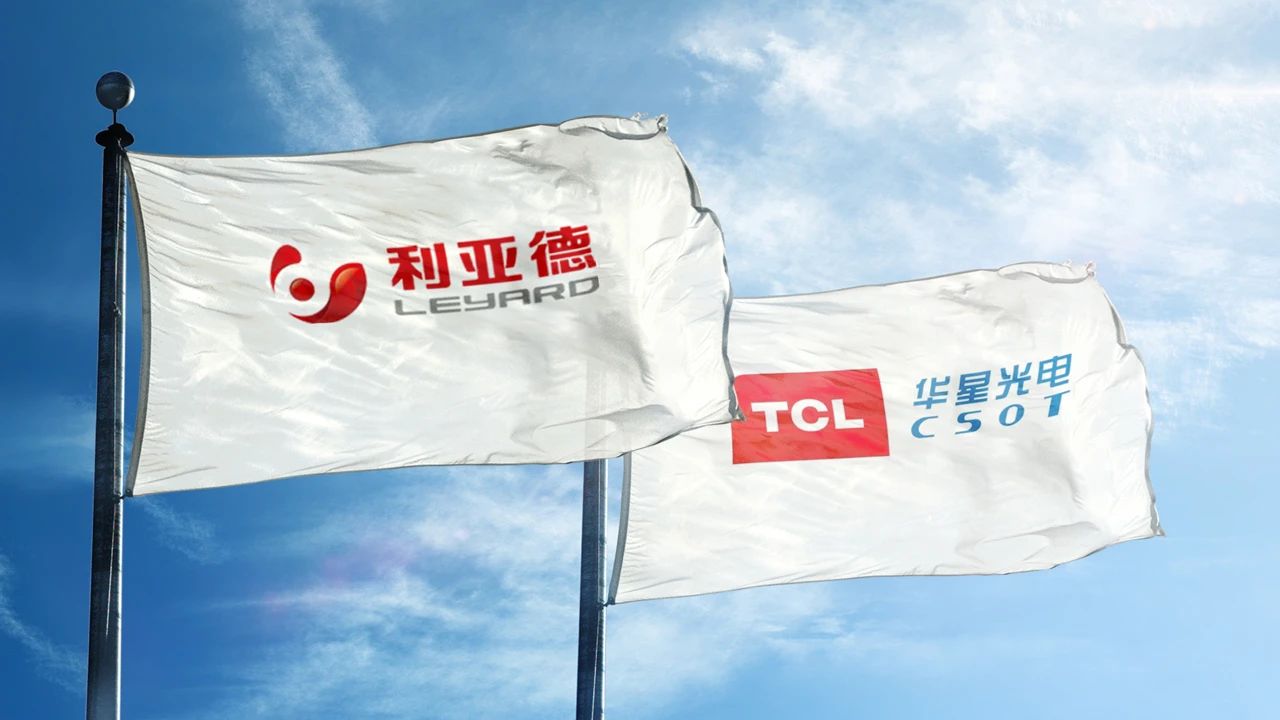 Join efforts to tackle COG
Accelerate the upgrading of Micro LED display technology
After years of technical research, Mini/Micro LED display technology gradually moved towards industrialization and become the mainstream of the new generation of display technology. The in-depth cooperation between Leyard and TCL CSOT in the field of Micro LED is an important step to realize the integration of industrial chain from upstream to downstream, from technological innovation to the implementation of industrialization scale strategy.
Based on this, Leyard and TCL CSOT will jointly develop COG-mode Mini/Micro LED direct display products, explore and overcome the technical problems of Micro LED display, and promote the qualitative upgrading and innovation of the industry.
COG (chip on glass) is to directly solidify LED chips to glass substrate, and to use TFT to realize Micro LED display. Compared with COB, the process of COG is simplified, and its volume is also smaller. Thus, COG is easier to miniaturization, simplification and highly integration. More importantly, based on the glass substrate technology, COG can obtain ultra-fine TFT driving structure in large area by using semiconductor, lithography and advanced copper technology; moreover, if the massive transfer technology is applied, the friendliness of glass substrate is also higher. Therefore, COG technology will be the "perfect match" for the continuous progress of Micro LED display technology.
Mini LED backlight customization
Speed up the market occupation of Mini LED backlight application
As the latest report released by DSCC shows, with the introduction of LCD TV with MiniLED backlight by major domestic and foreign brands, it is expected that MiniLED backlight technology will achieve a relatively rapid development in 2021. The volume of MiniLED backlight shipments will increase from 0.5 million in 2020 to 8.9 million in 2021, and the total volume of shipments will exceed 48 million by 2025.
At present, there is a potentially huge market for the domestic Mini LED backlight technology as the LCD display industry is now transforming and upgrading. Therefore, it is urgent to accelerate the industrial cooperation, forming economies of scale and popularizing its application.
Since the establishment of Leyard Mini/Micro LED display mass production base (Lijing Microelectronics) in Wuxi last year, Leyard has continuously increased its investment in the research and development of Mini LED backlight display technology, cooperated with partners in the layout of core materials and manufacturing processes, and achieved the accumulation of advantages in technology, products, efficiency and ecology.
In this cooperation, the two sides will continue to deepen the research and development of Mini LED backlight technology, and jointly accelerate the process of scale production and commercialization of mini LED backlight display technology.
Complementary advantages and resources
Create multi-scene industry solutions
Based on the market-oriented and user-centered principle, the cooperation between Leyard and TCL CSOT will surely inject new vitality into the display market.
In the future, the two companies will work to build a whole "ecosystem" of display technology on a full range of technologies, full-scale products and full application scenarios in the field of LCD and LED, so as to provide users with more superior audio-visual experience and more intelligent interactive carrier; the two sides will give full play to their respective advantages in display products, core devices, technology research and development, sales channels, etc. in the field of LED and LCD, and carry out in-depth cooperation to provide comprehensive, multi-scene display application solutions in helping promote the construction of National Smart City and industry digital transformation.
In addition, the two sides will build a strategic cooperation platform to provide more cooperation opportunities for their subordinate companies, shareholding enterprises and ecological partners.
The strategic cooperation between Leyard and TCL CSOT, on the one hand, aims to develop more technological achievements through technical exchanges; on the other hand, it hopes to accelerate the industrialization process of Mini LED backlight and Micro LED display, and the market application of new products by promoting the maturity of the supply chain and the reduction of manufacturing costs, jointly leading the global display industry to achieve rapid and high-quality development.