The Beijing Expert Advisory Committee on Business Environment Optimization ("Committee") was established on November 13, and Chairman Li Jun was appointed as one of the first members thereof.

As a nonprofit organization, the Committee advises on business environment optimization under the leadership of the Beijing municipal government. Experts of the Committee were selected strictly and composed of responsible, influential and ambitious experts actively engaged in business environment reform or entrepreneurs who are engaged in business management for a long time and familiar with full life cycle development. The first 47 experts hired will hold office for a term of office of two years and are divided into market environment group, government affairs service group, supervision and law enforcement group, and legal support group.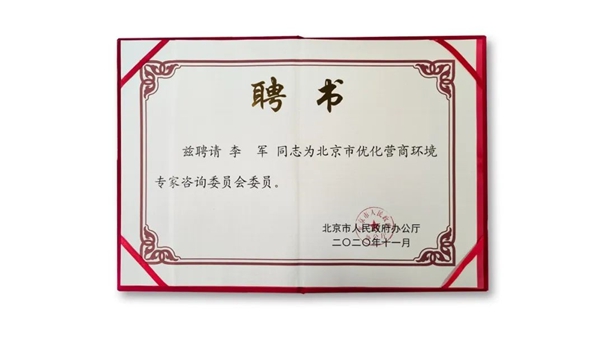 The experts will make comments and suggestions on removal of hidden barriers, broadening market access of digital economy, and promotion of accommodative and prudential regulation.