We released a full range of large screen Micro LED products under the brand Planar covering 108-, 135-, 162- and 216-inch household models, and began presale at our official website and APP. This groundbreaking launch shows Leyard's determination and strength to enter the high-end household consumer electronics market.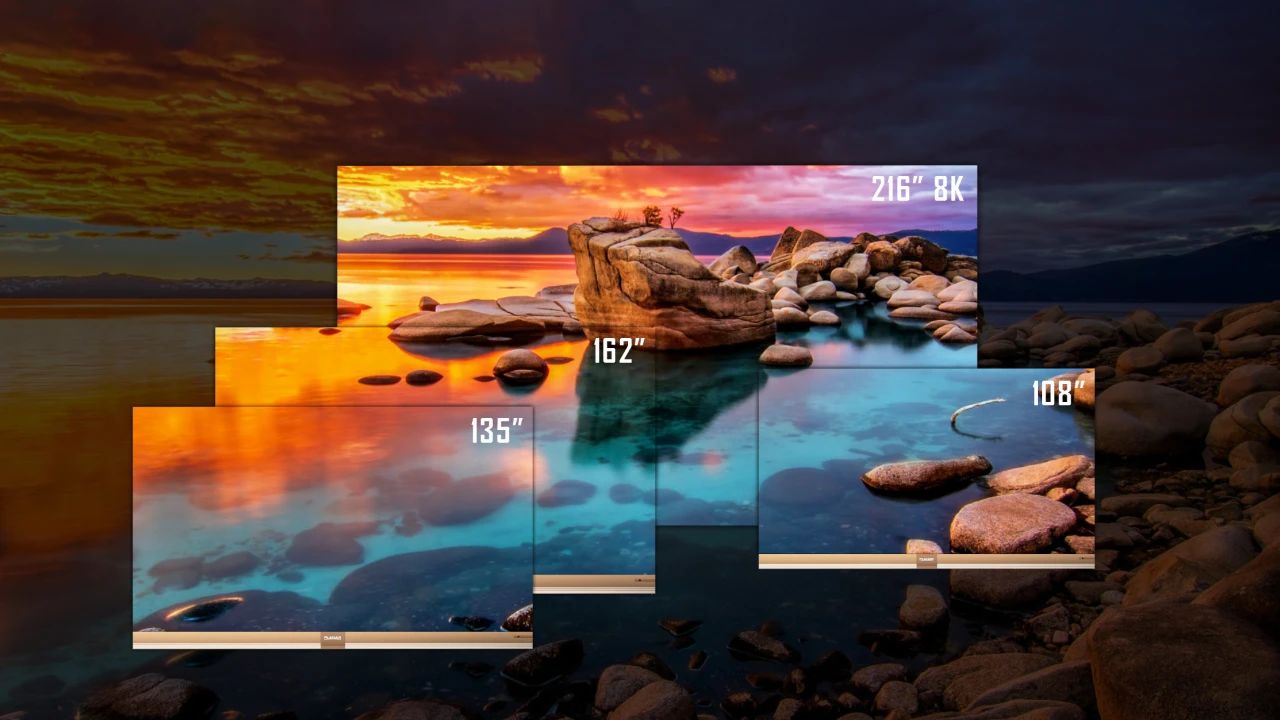 Further developing display
Aiming at high-end household audio-visual consumer market
While 100-inch or larger TVs are not uncommon in the market, launch of Micro LED household TV of full range of sizes ahead of others is enough to make Leyard a focus of attention and enable it to create a new milestone in the consumer electronics field.
Leyard display products were mostly used in the commercial field, staying on top of the commercial LED market and representing the industry's leading technology. With a beginner's mind, we will continue to strive for "enhancing human audio/video experience" and get into the household consumer electronics market as expected.
We received purchase orders worth nearly 100 million yuan in just two months from the first launch of Micro LED display in 2019 to the production of Micro LED commercial display in 2020. As a pioneer and explorer of Micro LED display technology who entered the household consumer electronics market in 2019 and got ready for production of full range of large screen Micro LED household TVs in 2021, we leveraged our technology and innovation to deliver value from technology to product and to market and move the LED display industry forward.
This time, we again took the lead in entering the top household consumer segment for redefining home audio-visual experience with cutting-edge Micro LED display technology and bringing the fantastic audio-visual enjoyment to consumers worldwide.
Compared to Leyard TV products released in 2019, the full range of Micro LED household TVs launched this time are more advanced and exquisite in display technology and appearance design. Incorporating a new Micro LED chip, a driver IC with independent intellectual property rights, and OLED, this series of Micro LED household TVs feature high brightness, true picture quality, and higher energy efficiency (energy consumption of the panel is as low as 0.4W/ 2K resolution, which is 1/200th of that of the general constant current IC standard energy-saving panel) and meets the needs of high-end market.
Leyard Micro LED series not only changes the technology and craftsmanship of TV, but opens display new possibilities with simple and elegant design. The large size, narrow frame and ultra-thin panel enable the combination of technology and art into this series TVs, creating a more realistic visual experience and giving an additional artistic touch to the overall spatial design.
Seizing the momentum
Starting a new trend of consumption with standardized products
As 5G arrives and 8K TV gains popularity, consumers become more demanding than ever in respect of audio-visual experience, requiring better image quality and lower energy consumption.
Better image quality means wider color gamut, higher contrast, and more realistic color display, while lower energy consumption, which is of great significance to mobile devices, means longer battery life and more features to be added.
As the latest generation of display technology recognized in the industry, Micro LED combines the advantages of LCD and OLED to provide excellent image quality, long battery life, wide color gamut, fixed-point drive, high response speed, and high stability, and outperforms OLED in terms of transparency and flexibility.
Statistics of Changjiang Securities Research Institute show superb performance (e.g., PPI, brightness, energy consumption and thinness) of Micro LED products. Global Micro LED TV shipments are projected to reach 15.5 million units by 2026. While market response shows that most consumers enjoy an immersive TV watching experience created by a big screen, Micro LED aligns with the fast-growing big screen TV trend.
Despite the high technical and manufacturing threshold for Micro LED TV production, we have been staying at the forefront of the industry. Elements from epitaxial materials to Micro LED chips, driver ICs, and mass transfer technology used in the development of Micro LED display fully demonstrate our technical and supply chain advantages gained through 26 years of hardworking in the industry.
Through partnership with Epistar, we set an industry standard in line with practical applications for Micro LED display based on industry developments and prospect and became the first to launch mass-produced, standardized Micro LED products, getting ready for extending the application of Micro LED from commercial products to household TV sets.
Now, Micro LED is driving a new wave of consumption. Micro LED products are geared toward individual consumers. Evolving technology and lowering cost expand the application range of Micro LED from large screen TV to consumer TV.
Industry leading enterprises truly play an integral role in the development of new technologies and products. Through joint effort by Sony, Samsung and Leyard, among others, problems with Micro LED are being solved, and manufacturing cost will reach an acceptable level as the technology and industrial chain mature.
Three innovations
enable Leyard to take a leading role in industry development
The release of Micro LED household TVs marked the successful end of our third technology innovation, and reflected our creativity and vision in the display field.
The LED display industry jumped forward over the past 3 decades, with each decade seeing a major technology and application upgrade. Our history proves "Haitz's law" that every decade witnesses a major development. Through three innovations, i.e., development of China's first true color LED display in 1998, creation and naming of narrow pixel pitch (NPP) LED in 2010, and industrialization of Micro LED in 2020, We brought Chinese LED display to the world and contributed to sustainable development of global LED display industry.
The Global LED Display Market Report released by Futuresource Consulting in August 2020 shows that Leyard LED display, NPP LED and indoor LED products remained No.1 in global market share for four consecutive years.
From the internet to IoT, from 4K to 8K, from appliances to intelligent appliances, consumer electronics have been experiencing dramatic changes. The landing of emerging technologies including 5G, AI and big data is accelerating TV technology change.
Development without a model is difficult and being a model in itself is even harder. We have launched a wide range of Micro LED display and TV products since 2019, integrating the latest display technology into each generation of products.
As a world leading LED display innovator, we want to activate the home TV market in the next wave of technology and embrace a new round of industrial upgrade.
New technologies breed new opportunities which spawn new products to cultivate new markets. As large-screen TV becomes the new trend, the biggest challenge facing us is to bring innovative products to market, and walk in the forefront of the industry instead of improving cognitive skills. Starting from the full range of Micro LED large screen household TVs, we will adopt meaningful designs to provide new, better audio-visual experiences to families around the world.