Recently, the 2020 Guangdong Science and Technology Award has been announced. The "key technology and integrated application of high-density and high-reliability LED display device" projects jointly declared by Shenzhen Leyard Optoelectronic Co., Ltd. and National Star and other companies have won the first prize of Guangdong Science and Technology Progress Award. This is another blockbuster technological innovation award that Leyard won after the China Patent Excellence Award.
Organized by the Guangdong Provincial Department of Science and Technology, the Guangdong Science and Technology Award is mainly committed to individuals or organizations that have made outstanding contributions to the promotion of scientific and technological progress and economic and social development. This award is the highest honor in Guangdong Province in scientific and technological achievements.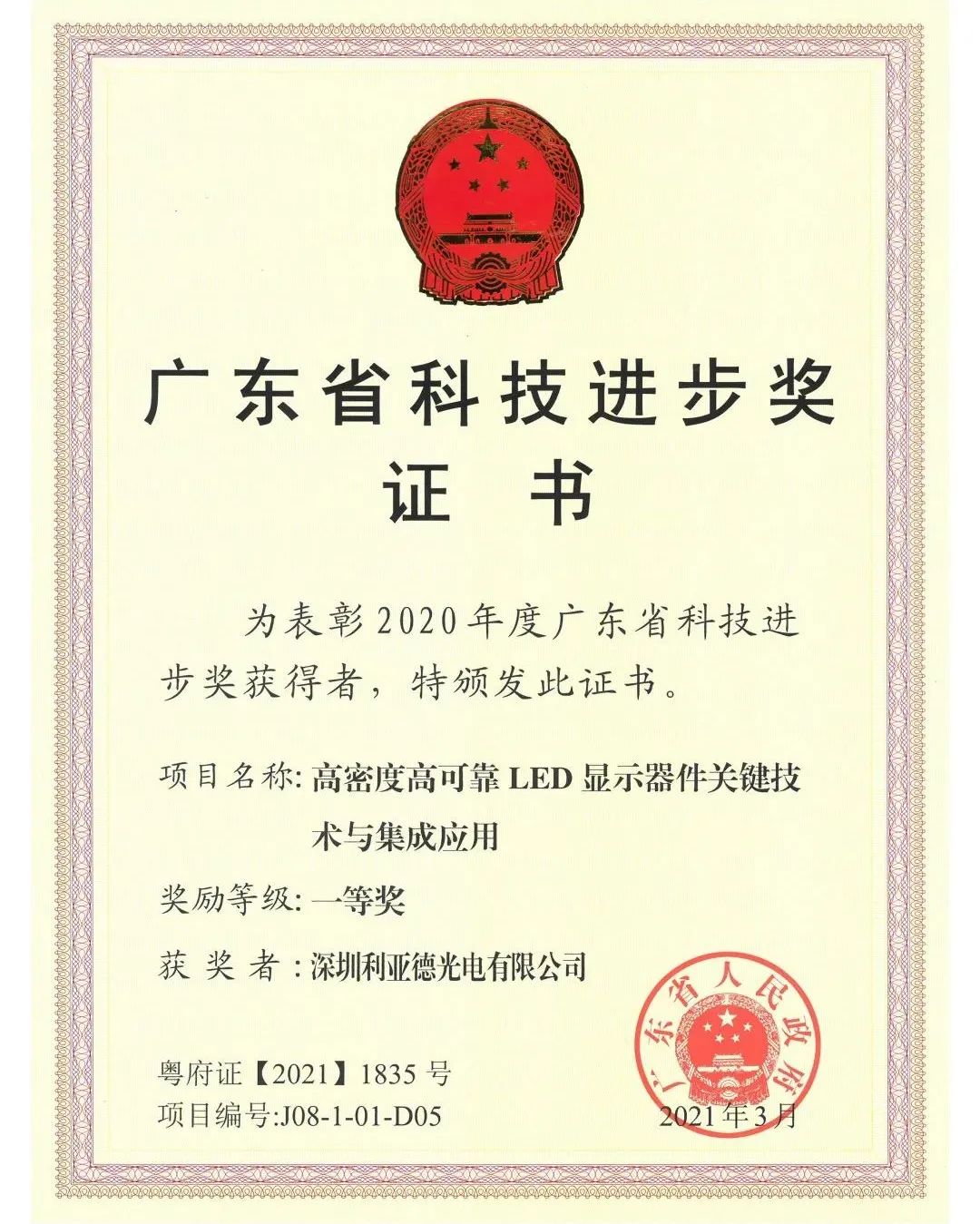 For this award-winning project, Leyard cooperated with the joint companies to achieve breakthroughs in the overall technology of light-color design theory of micro-display device macro-micro composite structure, highly weather-resistant precision packaging architecture, low defect and efficient manufacturing, micro display module high-density integration and control technology, which solves the technical bottleneck of high-density and high-reliability manufacturing of LED display devices, and provides strong support for the transformation and upgrading of LED displays to high-density displays and the realization of 4K/8K ultra-high-definition displays. At present, a number of key indicators of the project are the most advanced globally, and its technical achievements have been applied to a variety of display products such as Leyard LED fine-pitch, bringing customers a better visual experience.
As a global leader in audio-visual technology, Leyard has always adhered to the concept of "innovation-driven development" and fully integrated it into product research and development; meanwhile, the company has always followed the spirit of openness and cooperation for mutual benefit, and adhered to the industry chain's upstream and downstream for joint innovation to promote the development of the industry.
From the production of the first domestic full-color screen to the original fine-pitch LED technology; from the joint innovation and development of Micro LED chips and driver ICs (chips), to the world's first mass production base of Micro LED display products using mass transfer technology;from obtaining the world's first low-blue light certification for self-luminous LED displays, to becoming the first domestic Micro LED ultra-high-definition display company with the authoritative 8K certification, Leyard has been contributing strength of innovative technology to LED displays. In addition, Leyard has acquired a number of mature cases and solutions in the fields of 5G+8K innovative applications, naked-eye 3D creative visual displays, AR, MR and XR virtual production.
Up to now, Leyard has a total of 1,900 patents authorized and applied for worldwide, including over 100 core intellectual property rights in the field of Micro LED display. In the future, we will continue to give full play to our technical and industrial chain advantages to speed up the innovation of Micro LED display technology and products, and facilitate the optimization and industrialization of global display industry chain.