Recently, another naked-eye 3D giant screen was unveiled in Shenzhen Futian Zhaobangji Financial Building. This is also the second naked-eye 3D screen in Shenzhen in May after the first flat naked-eye 3D screen in Luohu, Shenzhen. It indicates that the application of outdoor LED displays is more and more extensive, and people's demand for naked-eye 3D displays is getting higher and higher.
Why is the demand for naked-eye 3D displays so high? The answer is obvious: it has won the favor of some cities with its shocking, realistic picture effects. Especially during the "14th Five-Year Plan" period, in order to accelerate the construction of smart cities with local characteristics, many domestic cities have invested a lot of funds in smart cities, and the capital investment has promoted the application of new technologies such as 5G, cloud computing, AR, and VR. As a creative product for outdoor LED display screens, naked-eye 3D display screens have caught up with this ride.
Under the premise of making full use of the media scene environment and space, the naked-eye 3D display mobilizes a variety of on-site expression methods to create a comprehensive and rich sensory stimulation. At the same time, it combines images, sentences, three-dimensional objects, dynamic sound effects, environment, etc., using VR And interactive 3D naked eye and other technologies, let things in the picture cleverly blend in, colorful, layered, lifelike, and achieve seamless online and offline interactive effects.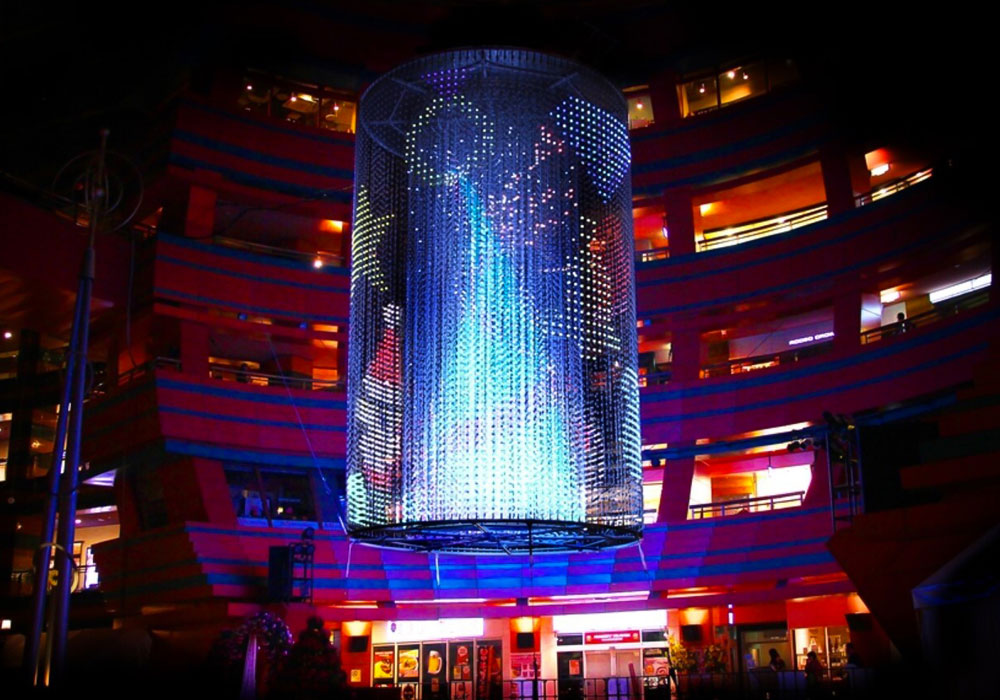 The current naked-eye 3D screen technology is not a leap forward, but the prospects are worth looking forward to. The business opportunities of naked-eye 3D can be seen from two aspects. On the one hand, its application fields are becoming more and more extensive. For example, there are exhibition and display fields (large-scale venue construction, exhibition activities, science and technology museums, museums, real estate properties). Chemical field (outdoor projection, multimedia drama, theme water show, cliff projection, live performance), film and television field (3D film, 3D animation), advertising media (airport, subway, high-speed rail, hotel, elevator entrance, store), etc. On the other hand, under the support of the "14th Five-Year Plan" national smart city policy, it is expected that more cities will build naked-eye 3D screens with urban characteristics, and outdoor LED displays will show explosive growth.
In the current 5G era, the 3D LED video wall can be well combined with a variety of Internet of Things technologies to achieve a creative display of outdoor advertising media. LED manufacturers can gain a slice of the fierce market competition through naked-eye 3D displays.
LEYARD VTEAM (SHENZHEN) CO., LTD is one of the flexible LED screen manufacturers in the display sector of Leyard Group, which can provide the service of ordering custom shape LED screen. The main series of flexible LED conformal screens, LED transparent screens, LED grid screens, LED floor tiles screens, LED creative screens, LED film screens, LED small pitch screens, conference all-in-one machines, etc., are widely used in stage design, advertising media, sports events, bar entertainment, radio and television, convention and exhibition centers, large-scale product launches, automobile 4S shops, canopies, arcs, spheres, cube creative shapes, and other application fields, to achieve brand promotion, product display, and attract attention for customers.