Leyard Vteam offers you a full selection of transparent LED curtain screen made in China which can be used for advertising media, stages show, competition display board

What is a transparent LED curtain?
The transparent LED curtain is widely known as a transparent LED display. As the name implies, transparent LED curtain has the property of flexibility, transmitting lifelike pictures, and its transparency is its biggest feature. transparent LED curtain is a new type of ultra-transparent LED display screen. It has a 70% - 95% transparency the panel thickness is only 1cm, the custom LED display panels can be close to the glass. The design of this LED display technology greatly reduces the obstruction of structural components to the sight and maximizes the perspective effect.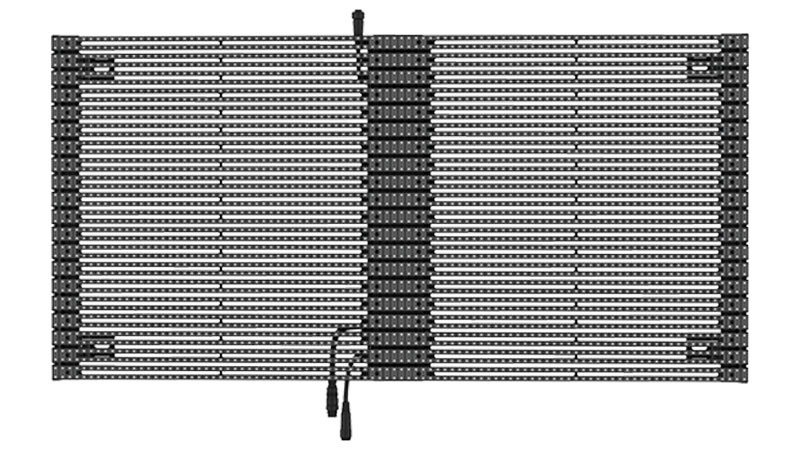 Advantages of transparent curtain
1.Ensure the overall appearance of the building or stages
Transparent LED curtain is usually installed behind the glass curtain wall, with great flexibility and transparency, the installation of the transparent LED curtain will not damage the original appearance of the building is neat and tidy.
2.Does not affect the normal work and rest in the room
High-quality transparent LED curtain adopts the original side-emitting display with high transparency and no light leakage. When the user displays the advertisement to the outdoors, the indoor viewing is transparent so that the normal work and rest in the room are not affected.
3.Energy-Saving
As the LED video curtain has a transparent display effect, the part without the picture does not emit heat, so the power consumption is low.
4.Maintenance management is more convenient and safe
The maintenance of transparent LED curtain is generally carried out indoors, which is not affected by outdoor instability. Transparent LED curtain support front and rear maintenance modes of the screen body, which is easy to operate, low maintenance cost and short time
Applications of the transparent LED curtain?
Through the breakthrough of the tech knowledge, the transparent LED curtain has made a great breakthrough in LED display applications on the glass.
Building Curtain Wall
The transparent LED curtain can be used in a large area of the glass curtain wall
According to statistics, the glass curtain wall is a new blue ocean field in the cases of urban outdoor advertising resources are increasingly exhausted. This area is very wide, such as glass curtain wall buildings, large shopping malls, sightseeing elevators, performance stages, etc.
Transparent LED Curtain for Interior Design
The Transparent LED curtain can be customized to different shapes and shapes to met the needs of different spaces and achieve the effect of space beautification.
Transparent LED Curtain for Exhibition
Transparent LED curtains are used in various exhibitions, such as auto shows and conferences, to promote products in all aspects.
Transparent LED Curtain for Window Display
Transparent LED curtain solves the problem that the window display of the commercial retail industry cannot be digitally displayed.